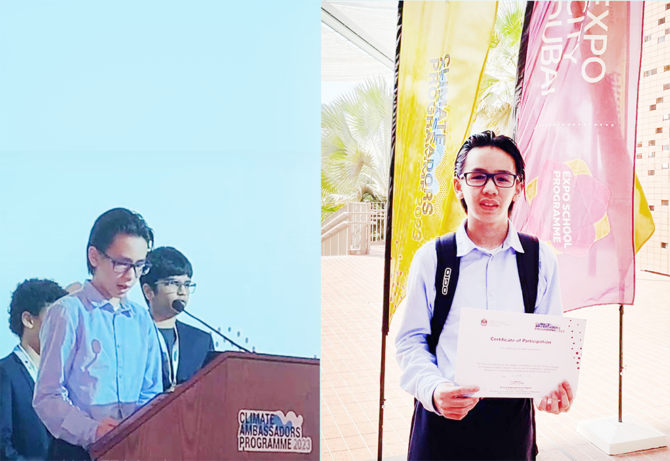 Ryker Named Philippines Climate Ambassador
I became the Climate Ambassador of the Philippines during the Climate Ambassadors Programme 2023 in Expo City, Dubai, UAE. The programme was held on March 6, 2023.
The CAP2023 is launched by the Ministry of Climate Change and Environment of UAE to offer the UAE's youth a first-hand simulated experience of the challenges, policies, and procedures in place to tackle climate change.
As an Ambassador, I was tasked to present the impacts of climate change in my country, work with my fellow Ambassadors to find solutions and create policies and action plans together.
Finding Solutions
During the session, I had the experience of discussing and sharing with the other Ambassadors to draft and amend action plans and negotiate a final consensus together.
Before the event, I researched the required information about my country and made a presentation.
I learned about different things like Greenhouse gas emissions, waste disposal systems, plastic use, and a lot more. I even read about the laws and policies of my country to fight against climate change.
CAP2023 was an immersive experience for me. I now have an idea of what will happen at COP28, the 28th session of the Conference of the Parties to the United Nations Framework Convention on Climate Change (UNFCCC) which will be taking place in the United Arab Emirates at Expo City Dubai.
What organization recognized the achievement?
UAE Ministry of Climate Change and Environment
How did homeschooling help you achieve your goal?
I had eased into researching along with schooling. After homeschooling, I would not feel tired and started researching my country regarding climate change.
What are your interests?
I like science and chemistry and have science sets such as crystal growing kits, and microscopes. I do a variety of experiments with the sets and also enjoy crafts and Lego.
What are your inspired to do with your life?
I am not sure yet but right now I am interested in different things like science, computers, math, and more.
What are your favorite subjects and why?
Science is one of my favorites because it is interesting since I get to learn about different things such as fungi, electricity, and the way things work.
Math, my second favorite, is tricky but in a fun way.
The photo was taken during our session when I was doing my presentation about my county with my Co-Ambassadors, and when I received my Certificate of Participation after the session.